Wednesday Social
Every Wednesday from 10 a.m. to noon, the public is welcomed to the "Old-Timers Social" held at the museum. Chat with those who grew up in Martin County. Refreshments served. Free admission.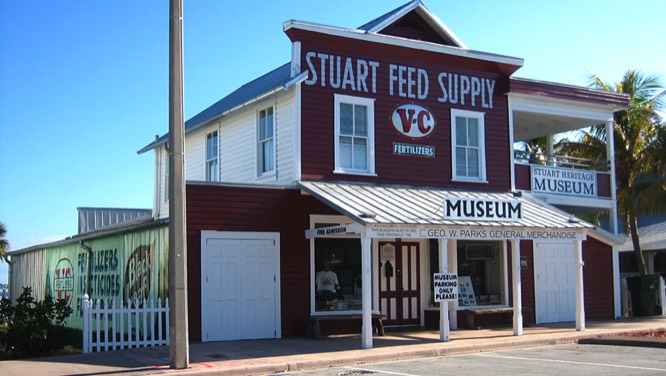 161 SW Flagler Avenue
Stuart, FL 34994
The museum is located in historic downtown Stuart between the Stuart City Hall and the Flagler Place.
(772) 220-4600
(772) 781-3416 fax
stuartheritage1@yahoo.com
The Purpose of the Stuart Heritage Museum
Stuart Heritage, Inc. was created in 1988 when the City of Stuart purchased the Stuart Feed Store building on Flagler Avenue in downtown Stuart, Florida. The purpose of Stuart Heritage is to help preserve the heritage, artifacts and history of Stuart and its surrounding communities. The countless relics housed by the museum define the history of the people, businesses, agriculture and community spirit of the City of Stuart and Martin County.
Purchase of the Stuart Feed Store
When the city purchased the Stuart Feed Store and property in 1988, Stuart Heritage wanted to convert the building into the Stuart Heritage Museum. However, it was not an easy process. To help with expenses, the front portion of the building was rented by Mrs. Peter's Smoked Fish House for a couple of years.
Gathering Artifacts
During those early years, donations of artifacts were gathered and organized in the remainder of the building. Some of the earliest Stuart memorabilia came from the efforts of Capt. Francis Adams, who had established a Stuart mini-museum in a small building behind the Stuart Police Station on 7th Street from June 1972 until his death in September 1975. With these and other donations from families who had lived in the area for decades, Stuart Heritage's inventory and variety of items steadily increased. Approximately 80 percent of the artifacts were acquired locally.
Preserving History
Local architect Don Armstrong was a founding member and Stuart Heritage's first president. He and other members set the organization's goal to protect Stuart's historical identity. Besides its numerous artifacts on display at the museum, that preservation has included saving numerous early buildings and homes which might otherwise have been torn down.
Historic Preservationists of the Year
Since 2011 there have been seven individuals in Martin County who have received awards in recognition for their work on preserving the historical buildings and history of this area.
2011: Sandra H. Thurlow • 2012: Joe Crankshaw • 2013: Alice and Greg Luckhardt
2015: Iris Wall & Jonnie Wall Flewelling • 2016: Harold Markey
Come Visit Us!
The Stuart Heritage Museum is open seven days a week from 10 a.m. to 3 p.m., with always free admission to the public. Volunteers staff the museum to answer questions and explain exhibits and artifacts. Come visit us and discover the rich history of Stuart!